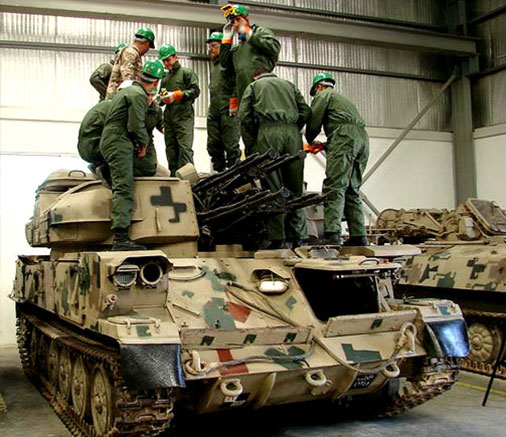 PRINCE AL-HUSSEIN BIN ABDULLAH MILITARY TECHNICAL COLLEGE
Diploma Degree
Offers (8) subjects: (7) in Engineering and one in Administration accredited academically by Al-Balqa' Applied University.
Diploma fields of study:
Mechanics of heavy vehicles.

Autotronics of heavy vehicles.

Welding technology.

Machining technology

Automobile mechanics.

Autotronics.

Electro-hydraulic systems.

Inventory management.
Vocational level
Training participants from JAF, brotherly and friendly countries aims to sustain, maintain vehicles, equipment and varied systems in a systematic way to keep them in a high tactical readiness level.
Major vocational specialties (fields of study):
Mechanics of wheeled and tracked vehicles.

Electricity and electronics of wheeled and tracked vehicles.

Mechanics of welding and metallurgy.

Radars.

Weapons and hydraulic systems.

Electronics of special systems.

Mechanics and electronics of Engineering equipments.

Electronics of guided weapons.

Optical systems technician.
Engineers and logistics
Newly graduated engineers' course.

Comprehensive computer ICDL

Basic supply and inventory course

English language course
Special programs for Arab and other countries
Customized and fulfilled in accordance with their needs and upon request.
Training Aids
Labs

Electrical machines

English language

Strength of material

Computer

Physics

Thermo-dynamics

Theory of machines

Electric control and safety

Fluid Mechanics

Heat treatment

Electric circuits and Electronic measurements

Microprocessors
Workshops
Electo-hydraulic

Autotronics

Electric wirings

Battery charging

Wheeled vehicles

Machining technology

Welding technology

Carpentry

Filings

Heavy vehicles

Library

Total space 150 square meters
Periodicals 7
Total number of items 6060
Encyclopedias and Dictionaries 229

Self study center