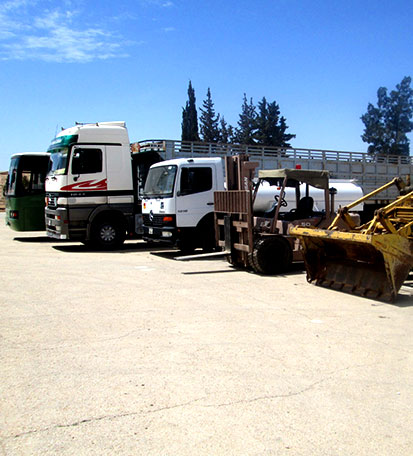 ZARQA CENTRAL WORKSHOPS
ZARQA CENTRAL WORKSHOPS
Az-zarqa central Workshops was established in 1956 in Aqaba district, in 1976 the Workshops was transferred to Az-zarq region (the current place) to support and perform all repairs and maintenance for Az-zarqa district military units.
Mission
Az-zarqa central Workshops provides technical support elements (repair, supply and recovery operations ) and provide all levels of maintenance for engineering equipment in JAF.
Duties
· Direct support for the military units in Az-zarqa district except those supported by king Abdullah II armored division maintenance group and special forces maintenance group.
· Direct support for all stored vehicles and equipment in royal maintenance corps stores.
· Execute all maintenance levels for vehicles (A,B and C), military equipment and weapons for military units in AOR by maintenance detachments.
· Execute up to the second level of maintenance for air defence units' vehicles such as(m113, volcans and cheetah).
· Recovery and repair all vehicles that have an accident and does not included in completion insurance project for military units in AOR.
· Direct support for all engineering equipment in Az-zarqa district up to maintenance fourth level, in addition to providing third and fourth maintenance levels for engineering equipment in the remaining military units.
· Supporting all trucks (over 5 tons) and buses (50 passengers) which require repair beyond their supporting units capabilities in accordance with RMC HQ approval.
· Prepare vehicles for special cases (under approval of RMC HQ)such as: Alhaj convoy buses, royal court convoys, engineering equipment, trucks and buses that recently enter JAF.
· Overhaulling of engineering equipment assemblies and subassemblies such as (Engine, gear box, transfer case, fuel pump, starters, alternators).
Developement and upgrading
All sections of the workshops are supplied by qualified, high professional staff, modern diagnostic instruments to keep up with a quick development in vehicles technology.
Engineers and Technicians Qualifying and Training
To achieve a skillful technical level suitable for vehicles and instruments development; it's necessary to prepare and qualify engineers and technicians by attending local and international specialized courses to be in the loop of variety specialized technical brochures and leaflets.