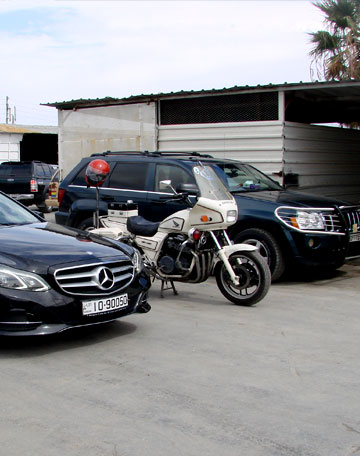 AMMAN CENTRAL WORKSHOP
AMMAN CENTRAL WORKSHOP
Amman Workshops was established in 1955 in Mahata region, in 1973 the Workshops was transferred to Marka region (the current place) to support and perform all repairs for military units in Amman district.
Mission
Provides all technical support elements(repair, modification, rebuild, recovery operations) for all military units' vehicles and equipment in Amman district, in addition to technical support for all military sedans, SUVs and buses(up to 26 passengers).
Duties
· Direct support for military units in Amman district.
· General support for commercial vehicles in all military units including repair, rebuild and modification, in addition to repairing of photocopiers and sewing machines.
· Supervision and Administration for the RMC plants (oxygen, acetylene, distilled water).
· Supervision and Administration of the Completion Insurance Project.
· Overhauling of assemblies and subassemblies of commercial vehicles such as (Engine, gear box, transfer case, fuel pump, starters, alternators).
Developement and Upgrading
All sections of the workshops are supplied by qualified, high professional staff, modern diagnostic instruments to keep up with a quick development in vehicles technology.
Engineers and Technicians Qualifying and Training
To achieve a skillful technical level suitable for vehicles and instruments development; it's necessary to prepare and qualify engineers and technicians by attending local and international specialized courses to be in the loop of variety specialized technical brochures and leaflets.