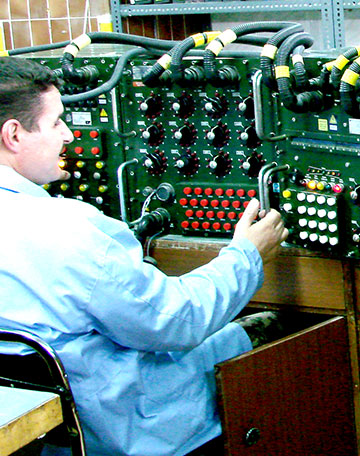 ELECTRONIC EQUIPMENT WORKSHOPS
ELECTRONIC EQUIPMENT WORKSHOPS
The workshops tests , repairs, adjusts, aligns and calibrates the assemblies and sub-assemblies of the following systems (ITFCS of tanks, anti-tank guided weapons, anti-aircraft guided weapons, artillery fcs, land-navigators, meteorological station (sirocco radar)and ground / vehicle laser locator designator, tripod/hand-held laser range finders , thermal imaging systems and IIT night vision sights, radar fire finders , and others).
Manpower
A highly qualified team of engineers and technicians in all applied engineering fields has the knowledge and capability in dealing with all electronic systems to fulfill the required task.
Calibration LAB
Performs electrical and optical calibration for varied test equipment in RMC units up to C-level, as well as the calibration of workshops' test stations and their built in test equipment(BITE).
Electronics test stations
Its duty is repairing, Overhauling and hardware items-rebuilding for electronic systems in JAF units supported by EEW up to the fourth maintenance level such as: ITFCS, tow lRU's… etc.
Optics test stations
Testing laser elements and a variety of electro-optical assemblies which need time and require critical test such as: beam energy, divergence, bore sight, FOV and range accuracy measurements.
Manufacturing
Providing solutions for electro-optical technical problems by using reverse engineering technique, modification or local manufacturing capabilities such as :( DC Regulators, Vulcan Battery, Over Heating Protection Devices, Tow Battery, Chargers, HHTI Battery, LP6 Battery).